Breastfeeding Weight Loss + Fitness Pack
Regular price

$499.99

Sale price

$399.99

Unit price

per
If you are looking to lose weight while breastfeeding, you now have a gauranteed program! That's right, if you follow the plans, use your Milk Dust products, and lose 10lbs, we will send you $100 BACK! This is the BEST VALUE on the site, and you get rewarded for succeeding! We are so confident you will keep your milk supply, lose your mommy pooch, and lose weight, we can't wait to send you money back!. Here's what's included::
2 jars each Milk Dust Lactation Protein Powder Sweet Vanilla and Fudge Brownie (44 servings of each flavor).
2 Jars Milk Dust Super Greens to BOOST energy + milk supply
2 Jars Milk Dust Metabolism to help burn fat and boost postpartum metabolic rate
FREE Milk Dust Macro Plan to follow (learn your calorie count + macros!)
BONUS FREE 8-Week Mommy Pooch Challenge to heal your diastasis recti and strengthen your core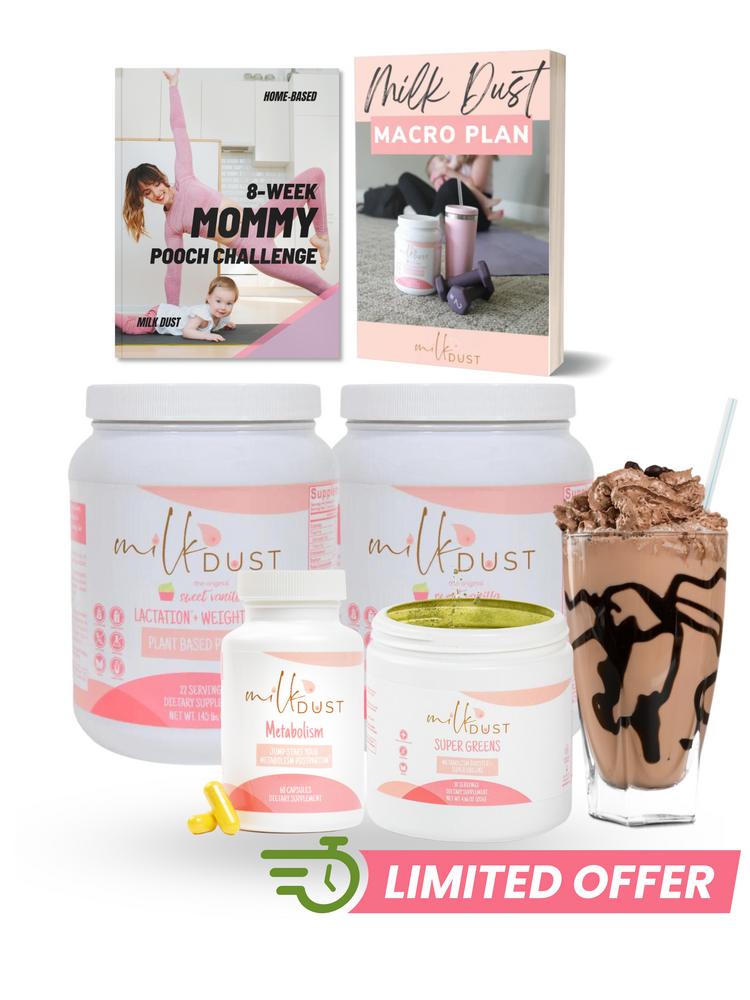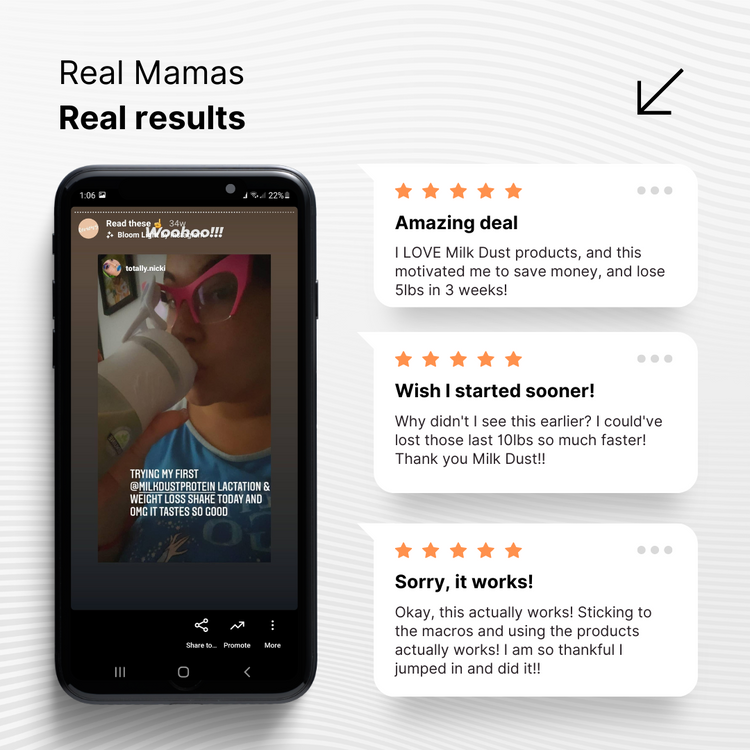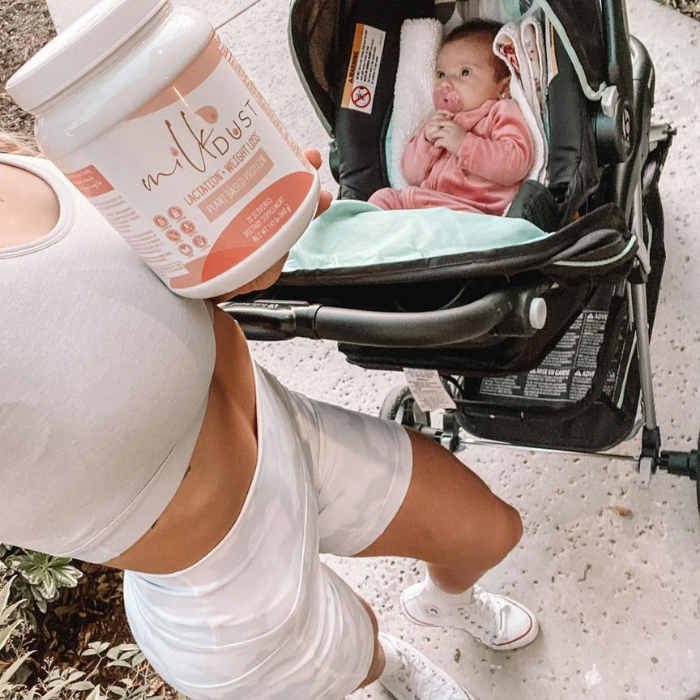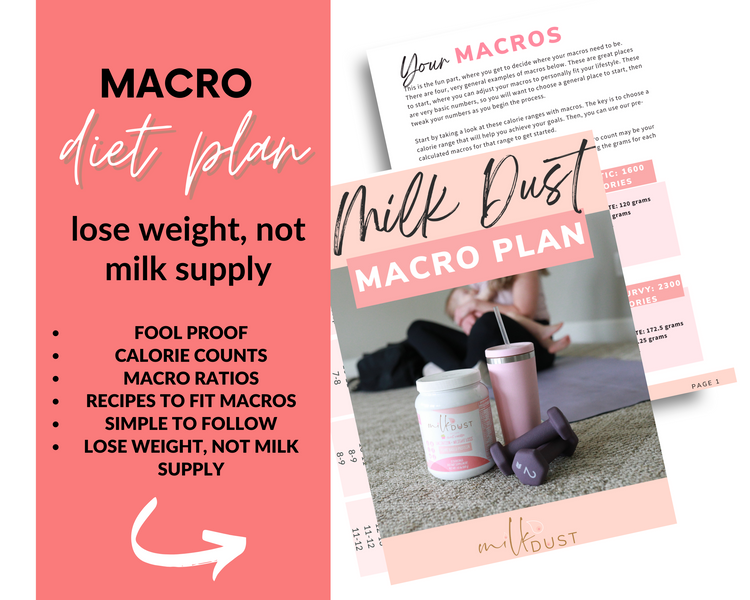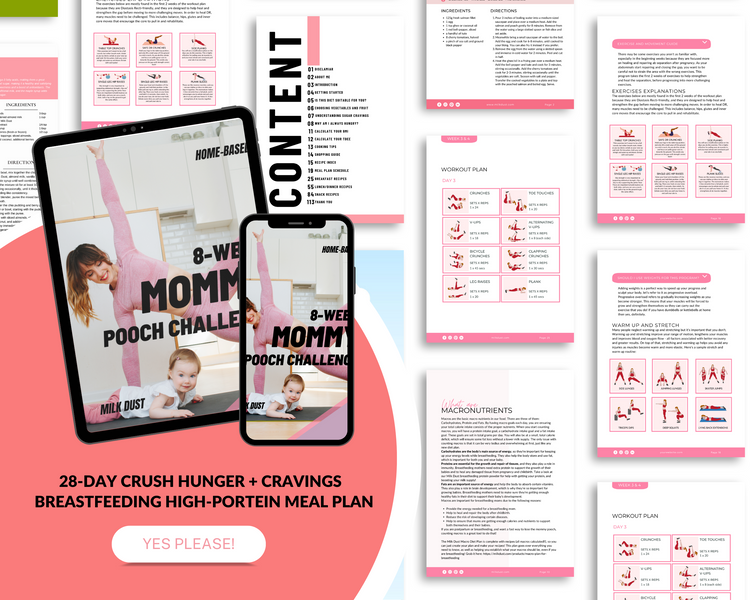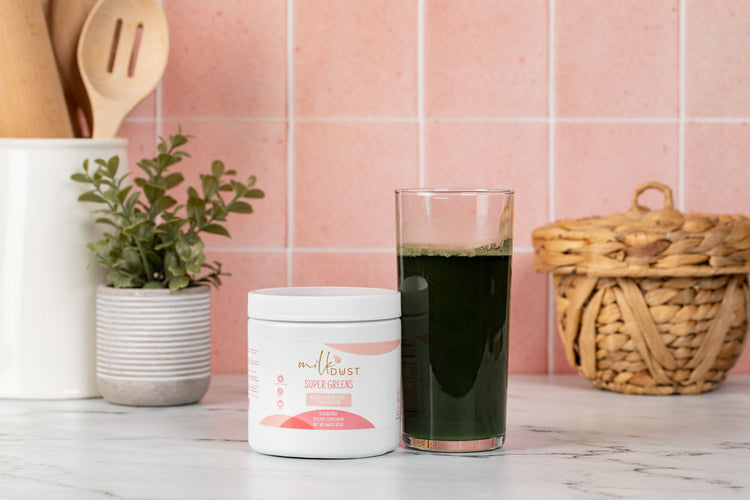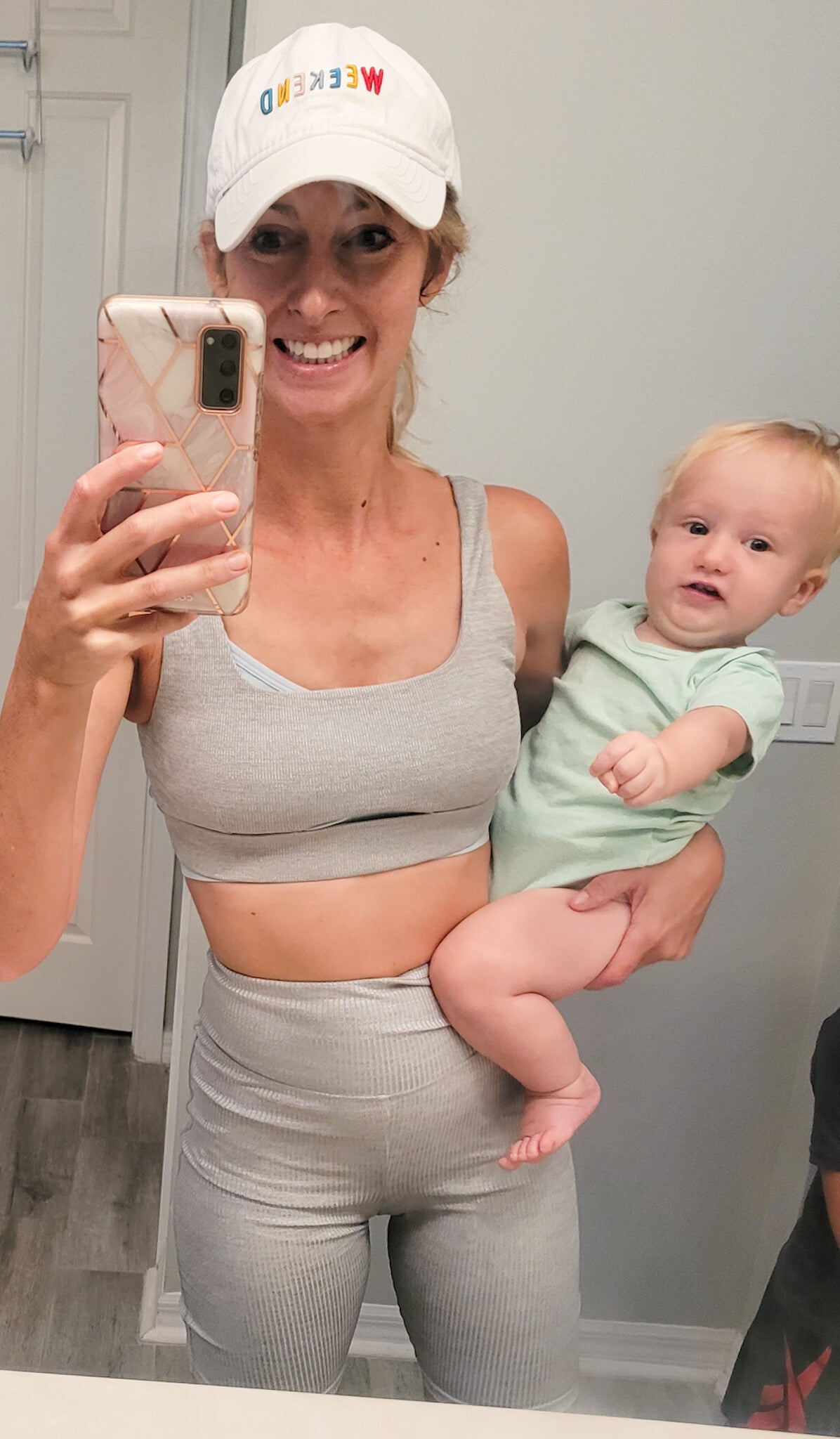 is the weight just sticking?
Sometimes it feels like breastfeeding just makes the weight STICK. It feels like you could eat NOTHING and GAIN weight. I know how you feel. I've had 4 babies, and I had to lose the weight while breastfeeding all of them. I found that SUPPLEMENTS were game-changers when it came to losing the weight, without losing my milk supply. My weight loss journey after baby #4 compared to the first 3 was so much EASIER! And I was 35 compared to 27 with my first!
I put together all of the tools you need, in a pack, so it is affordable, you have everything, and you can finally lose the weight!
I WANT THE PACK!
Hey, I'm Katie, mom of 4, and I want you to succeed!I KNOW how hard weight loss while breastfeeding is, so I'm willing to pay you to do it!
Lose 10lbs in 2 months (if you have that much or more to lose!)
Increase your milk supply
Heal your diastasis recti
Take your Milk Dust products Daily
Enjoy delicious recipes
Lose your mommy pooch
Send in your before and afters, and weight loss of 10lbs!
Get $100 dollars BACK when you succeed!
Amazing ebooks with recipes, guides, and expert nutrition advice
You will hit your weight loss goals while breastfeeding + keep supply!
Amazing value pack for the best blends and super ingredients on the market!
As the founder of Milk Dust, mama of 4 and fitness professional, I KNOW everything you need to succeed in losing weight while breastfeeding. I also know how difficult hunger, cravings and milk supply can be! I learned the nutrition tricks after my first baby, and I've helped THOUSANDS of mamas plan, follow and eat for breastfeeding and weight loss. I also realized that there were no nutritional supplements to help breastfeeding mamas lose weight, especially a protein powder. I created Milk Dust Lactation Protein Powder to fill all the essential nutrient gaps that are responsible for low milk supply, cravings and stalled weight loss. Since then, thousands and thousands of mamas have used Milk Dust products to increase milk supply and lose weight safely. I want you to try it, and have it all for a great value. I am so confident in our programs and products, that I will send you $100 dollars if you follow the programs, use your Milk Dust products every day, and lose 10lbs in 2 months. That means you get $100 BACK for succeeding!
What if you don't lose 10lbs?
I chose 10lbs as the goal because most mamas are looking to lose about 10lbs after birth. I found it to be a common goal, and also a realistic goal for many!
If you don't have 10lbs to lose, you may not need the full fitness pack. Just Milk Dust Lactation Protein Powder, or Milk Dust Super Greens could be the EXACT addition you need to your diet plan to lose those last 5lbs or whatever your goal is.
If you embark on the program, and HONESTLY AND FULLY follow the recipes, diet plans and nutrition guides EXACTLY, then you can get your money back! BUT, you must do the plan exactly for 60 days without fail.
I am counting on your honesty, mama to mama. I want you to win. I want you to truly to feel amazing again after pregnancy. I am not selling you on something , I am hoping you will have the success that I had as a breastfeeding mama!
It will take change, it will take planning, and it will be uncomfortable at first, BUT it does get easier!
Are you ready to lose weight, keep your milk supply, and heal your core? Let's do this!
I AM READY!